Structurally, the device consists of three main parts - hour on which is mounted the radiator and the electronic control unit and control. The electronic unit is a generator of infrasonic harmonic frequencies of the electrical signals with different modes of operation. The unit is equipped with a timer , as well as light and sound alarm.
The electronic unit has three basic modes of operation:

1 - work in manual control mode.
In this mode, the signal frequency is set manually using the control knob FREQUENCY on the front panel of the device.

2 - the mode automatically changes frequency.
In this mode produces a smooth change in signal frequency in the range from minimum to maximum values for a particular algorithm. It is also possible to set three different rate of change of frequency. The mode of automatic control and setting the rate of change of frequency is carried out by the authorities control MODE on the front panel.

3 - mode external control.
In this operating mode, the device connects an external source of electric control signal with the appropriate frequency. This can be a computer or any other device. The transition to this mode is made by the toggle switch on the rear panel of the device there is also a connector for an external signal.

In all modes of operation, the output power of the electrical signal is adjusted by the control knob POWER. The emitter is connected to the connector on the rear panel of the electronic unit via cable. The location of the emitter height can be adjusted with the rotary knob on the front. The stand itself moves easily across the floor through the wheels, one of which with brake for fixing the rack in position.

Main technical specifications
Modes

1. The range manually set the frequency

2. Automatic frequency change
(the generation of the sweep)

3. From an external signal source


12 - 100 Hz

13 - 30 Hz (64 steps)


5 - 300 Hz

The settling time mode

30 s

The speed of change of frequency

0.25; 1; 2 Hz

The diameter of the outlet of the radiator

100 mm

The maximum sound pressure level

SPL 85 dB

The sound pressure level at a frequency of 13 - 30 Hz and direct contact with the body of a patient

SPL 50 dB

Maximum sound power

150 W RMS

Wavelength optical radiation

650nm - 660nm

The maximum power of the optical radiation

400 mW

Timer

5, 10, 15, 20, 25, 30, 45, 60 min

The adjustment range of the position of the emitter height

160 mm

The supply voltage

220 V, 50 Hz

Weight (without counterweight)

18 kg

Counterbalance weight

16 kg

Maximum power consumption

250 W

Dimensions

1300 X 1000 X 400 mm

Climatic conditions apparatus:

Ambient temperature
Relative humidity at a temperature +25°C


from +10°C to +30°C
up 80%
Working order
The device is a network switch on the front panel lights up when the built-in toggle switch the light source and the red STOP led. In the moment of switching on short beeps after 30 seconds, the unit is ready for operation.
Control knobs on the front panel sets the operation mode and sets the time until the end of the procedure.
For the procedure infrasound and light therapy the outlet of the radiator is directed to the affected area on the body of the patient in the supine position or sitting in a comfortable posture, freeing previously from the service areas of the body subject to exposure.
When pressing the START button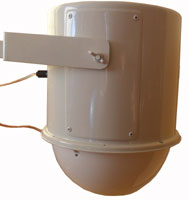 green led lights up, sounds enable signal radiation and powerful harmonic electric signal supplied to the emitter.
The emitter generates infrasound air waves and the flow of optical radiation red light, which are sent to the affected area and provide comprehensive physiotherapy action.
After a specified time of the procedure, the device is automatically disabled if this sounds signal the end of the procedure, the led START goes out and STOP led lights up.
The procedure can be aborted by pressing the STOP button.
After the machine off the network switch.